...I am at liberty to change of course, but take exception that a manufacturer that has supposed to have produced a road derivative of a flat track racer, subsequently charges a small fortune for a 'tracker collection' installation kit
. You couldn't make it up.
I have owned something in the region of twenty motorcycles and I can't recall deriving so much sheer joy, satisfaction and pride as I do from my FTR. ( -perhaps the fascination of my first bike, a DT 125 which I rode illegally on the rode because it was bored out to 175, so spent most of my time on the dirt). Coming from an outright sportsbike (although I've owned many different genres), this has rekindled my love of riding. I find myself contriving reasons to use it. I wake up early at weekends with the anticipation of where it will take me next. I love the marque, the feel, the look, the sound and the individuality - this bike gets attention.
There are saying that, several things that irk me - and please before you possibly take umbrage consider that this is entirely subjective, we are all different and that's what makes us interesting.
1/ Firstly. I'm still riled by the promotion of the project bike. When I first saw this I actually exclaimed out loud (I was at work at the time), "Indian, have my money, my left testicle, claim my soul - whatever it takes" Perfect...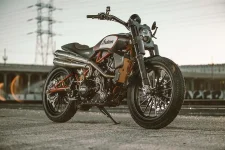 Absolute unbridled beauty.
It didn't matter what it took, I was having one. Until...
And lo, a huge turd doth fall from the sky...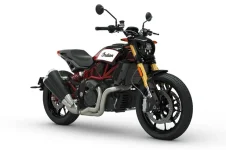 I couldn't comprehend how they could have got this so wrong - this bore no relation to the stripped down aggression of the concept bike that I was so smitten by. My only thought was concessions to the European market.
I soon realised that underneath the pots, pans and plastic gubbins lurked a beautiful inimitable motorcycle - with huge potential and that if I wanted one, then I'd have to pay to unlock that. De-cat, aftermarket exhaust, tyres and so forth - all been covered exhaustively on here and I'm so grateful that I discovered this forum/resource and the experiences/changes that others have made. Having binned the biscuit tin cat, obtained a link pipe for the replacement exhaust, tidied the tail end I took stock. Still some elements that bug me...
1/ I absolutely hate the gold forks. It keeps me awake at night. In fact I detest gold on a motorcycle - it makes me want to hurl. They have to either go, be sprayed black or some black shrouds fitted urgently.
2/ I have the S&S can minus the dB reducer and with the cat delete it sounds like a howitzer. Thing is, knowing that the twin side mounted system is a complete pain in the arse to fit and ride (although in my opinion is the defining exhaust for this bike) I am instead hugely tempted by the low mount Toce system that some have opted for (which I adore). I don't think a side can is in keeping with this motorcycle's origins. I don't want to sacrifice the sound of my existing pipe though...which without being biased, is one of the best sounding I've ever heard on the road.
3/ On the subject of the bike's origins - this is supposed to be a road going flat track racer, so I don't understand the addition of back rests, luggage, phone holders, and general ergonomics. I've always found that motorcycles are as much what you choose to discard and omit as opposed to adding on. It isn't a touring motorcycle (I don't get the 'rally') and if I wanted any of that I'd consider a KTM or a Beemer 1250RT. In view of that - taken to its logical end, perhaps I shouldn't even have mirrors, chuck the pillion pegs and opt for a slab for a seat and a sore arse to boot. Embarrassingly, I certainly shouldn't have retained the heated grips that the previous owner installed....but they are a godsend at 6.00am on a UK Autumn's morning. Hypocrisy much?
4/ Tyres. I stuck on the Conti IIIs and I really do maintain they are the optimum road going rubber for this bike. I also venture onto unsealed tracks and green lanes and naturally they are a total liability. Again, given the pedigree of flat track, I don't like the look of them either in view of the spirit of FT. I've been considering dual sport and there are several I have considered. My go to choice/no brainer would be the Pirelli MT60rs with the corsa compound, but they don't accommodate the 19/18s. Really don't want to sacrifice my grip, confidence, response and lean angle - I enjoy surprising and startling unwitting plastic crotch rocket jockeys with their pristine leathers and immaculate sliders by sailing past with my knee down. Sorry - shallow as a tea spoon I know.
5/ I loath the TFT and why the fuck do I need to bluetooth/tether a phone to or have a TV screen on a flat track racer? - or any motorcycle come to that? Again, I'm progressively aiming for a minimalistic, purist and traditional look and underneath the clutter of the French tart's handbag lurks that raw spartan appeal that I initially fell in love with. My bike is crying out for an analogue style single clock like the base model.
6/ The side stand What on God's name were they thinking? Sick to death of the fact that the thing started to teeter every time a butterfly unfurled its wings in Argentina, shed an inch this weekend, re-welded it and it's perfect.
7/ The snatchy throttle when cold. still not sorted by the flash.
I will in time, also change the rear shock, the bars, the wheels (solves the tryre problem) and probably the seat and the tail again. Otherwise, I'm simply enjoying it for what it was originally supposed to be and for all that, grateful that I am in possession of the best motorcycle I have ever owned.
Last edited: